Africas Top 50 Experiences | No. 20 | 11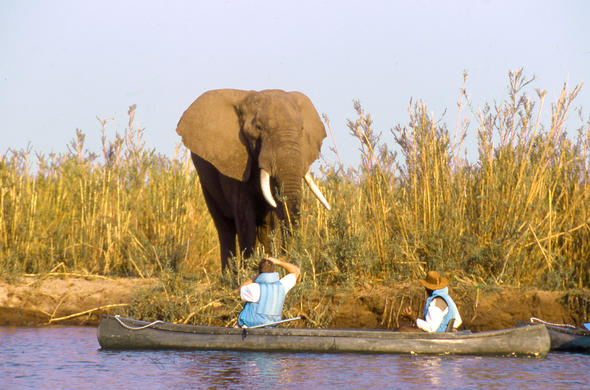 If you could choose one experience - one special moment - in Africa, what would it be? Tricky question, isn't it? So imagine the head-scratching, floor-pacing and heated debate that went into Travel Africa's ultimate Top 50.
From the shores of the Mediterranean to the snows of Kilimanjaro; from mountain gorillas to whale sharks, and from rafting to pony trekking, we've sifted the highlights of this extraordinarily rich and diverse continent to bring you the best of the best.
And if that wasn't enough of a challenge, we've also graded them, from No. 50 to No. 1. Controversial? We hope so. Part of the magic of Africa is that it stirs such strong emotions - so let us know what your No. 1 is. Are we way off the mark? What's on your African dream list?
Here follows the Top 20-11
20. Take a helicopter flight into the rift
Helicopter Safari. Enasoit Sanctuary. Kenya
The Great Rift Valley, the world's largest fault, is 800m deep, 30 kilometres wide and
a staggering 2500 kilometres long
. It is home to some of East Africa's most remote and inhospitable terrain, some of which is accessible only to hardy native tribesmen and a few privileged westerners with helicopters.
One such pilot and helicopter operator, Humphrey Carter, has made the remote northern Rift Valley of Kenya his home. Each day, at dawn, he departs from the Laikipia plateau, delving into the Rift through the spectacular Mukutan Gorge.
Continuing north along the course of the Baragoi River and into the Suguta Valley, there are opportunities to touch down next to lakes teeming with hundreds of thousands of flamingos or to visit the remote lands of the Samburu and Turkana tribes.
This expedition is a wonderful opportunity to fly with the birds and walk with the nomads. It offers a unique insight into one of the most incredible geological features on the planet and the people and wildlife who make it their home. - Steve Turner.
19. Ride on the back of an Elephant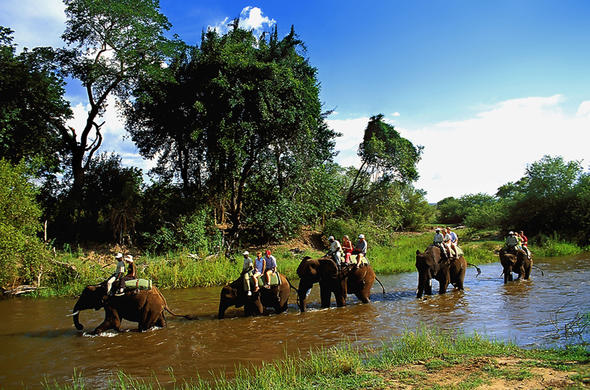 Elephant-back Safari. Victoria Falls
From the back of an elephant you can see more of Africa. You can feel its spine dip and flex,
smell its tangy bovine scent
and run your fingers across the wrinkled maze of its skin. You can hear the vacuum rush of air in its probing trunk, the deep resonating rumble of its cavernous stomach and the rhythmic grinding of fist-sized molars.
They say this is the ultimate safari - roaming the African bush on elephant back;
gliding through the tree tops
, regal as a maharaja, exploring game trails and lagoons where even the most determined 4x4 vehicle would flounder.
The elephants walk at a slow, but ground-swallowing gait, 'pacing along as if they had an appointment at the end of the world,' as Karen Blixen once put it. Their spongy soles deaden the sound of each gargantuan footfall - if desired, a herd can move in virtual silence.  - William Gray.
18. Forage with Bushmen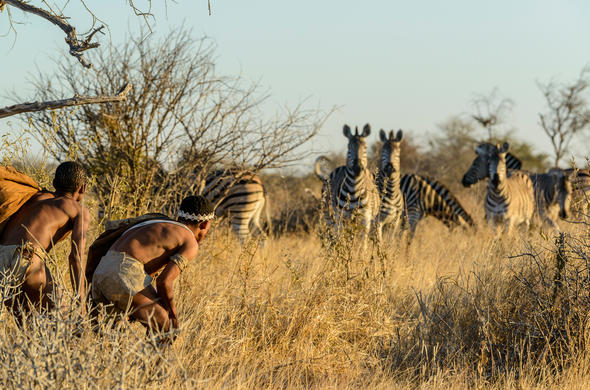 San bushmen hunting near Haina Kalahari Lodge. Botswana
Go walking with Bushmen in the Kalahari: their amazing bush skills surpass those of the most famous safari guides. They're
born in the bush and grow up with it
. It's their nursery and classroom; no wonder they know so much. I set off with Kgao and Nqeisi briskly walking ahead, a little apart, as they chatted in the melodious clicks of the Ju/'honasi language.
Berries were collected and eaten, and exploding seed heads found for entertainment, before Kgao spotted a small, green shoot at thirty paces. Minutes later he'd dug up a water-filled tuber the size of a basketball.
>Shortly Nqeisi found a spring hare's hole and eventually fished the unlucky creature out with a long, flexible pole. Occasionally I
stopped to ask about plants
, only to be told more than I could possibly remember. If you want to find Africa's best guides, look no further. - Chris Mcintyre.
17. Take a classic mobile Safari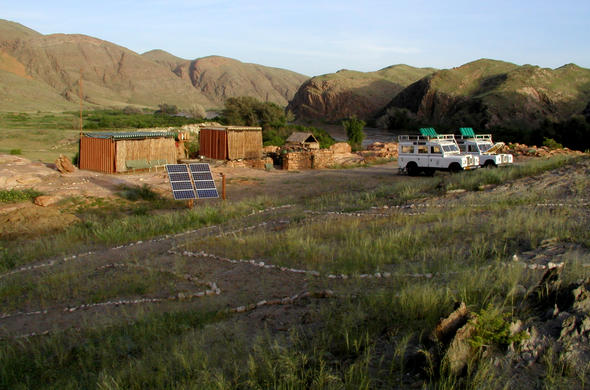 Mobile safari on Cunene River. Namibia
Nothing beats the sense of freedom you get from a traditional mobile safari. Waking to the dawn chorus and the sound of hot water being poured by unseen hands into the canvas wash stand on the verandah of your tent. Steaming mugs of coffee round the fire, which has kicked back into life from the previous night's embers.
The
fresh smell of dawn in the bush
. Out in the vehicle for a day full of adventures and wildlife encounters; exploring new areas. At the end of the journey, arriving to find camp set up in a new location, welcoming staff waiting (with your whisky already prepared) to show you to your tent.
Water being emptied into a bush shower suspended from the branch of a tree and the exotic thrill of showering under a starlit African sky. Eating dinner in good company, beside the flickering light of the campfire. And later lying in bed, listening to the chorus of crickets and frogs and a lion roaring in the distance.  - John Warburton-Lee.
16. Relax on a Felucca down the Nile
The Nile has a distinctive, earthy scent that I like to think of as the smell of Ethiopian soil, deposited in Egypt over millennia. Sailing from Aswan to Edfu on a felucca, there's plenty of time to think about the river and its scent. I watched mud-brick villages slip past and waved at women washing pots on the river's shore.
As our ra'is, Ahmed, kept his hand loosely on the tiller, the wind and the current pushed our little boat northwards, past Kom Ombo temple and other monuments to Egypt's ancient past. I tried to name another river that has five thousand years of history visible on its banks, but failed. The cliché is true: Egypt is the gift of the Nile, and sitting on a felucca is one of the best ways to enjoy it. - Siona Jenkins.
15. Glide in a Mokoro through the Delta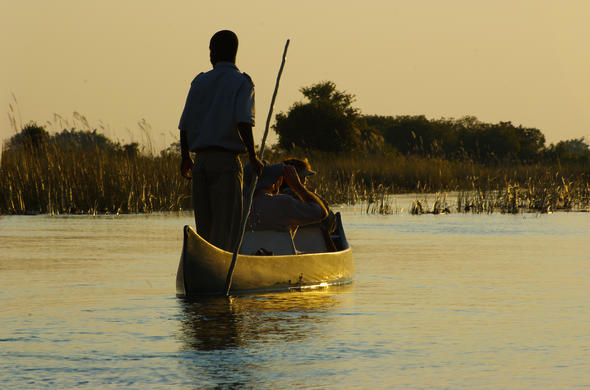 Sunset ober the Okavango. Botswana
There is nothing on earth as restful as setting out into a bright Okavango dawn in the bows of a mokoro (dugout canoe). Soundlessly you glide forward. A lazy twist of the boatman's pole, then nothing but birdsong, water lilies, reflections and ripples. Coucals bubble in the reed beds. Red lechwe splash across the flood plains; and all you have to do is sit back and go with the flow. It's by far
the most intimate way of seeing Botswana's Okavango
— and the most eco-friendly.
Once, the finest of these traditional Delta canoes were hewn from the trunks of sausage trees. Now they come in fibreglass, which saves the trees but in no way detracts from the simple pleasures of seeing Africa's most beautiful oasis from the water. - Brian Jackman.
14. Fly low over the Skeleton Coast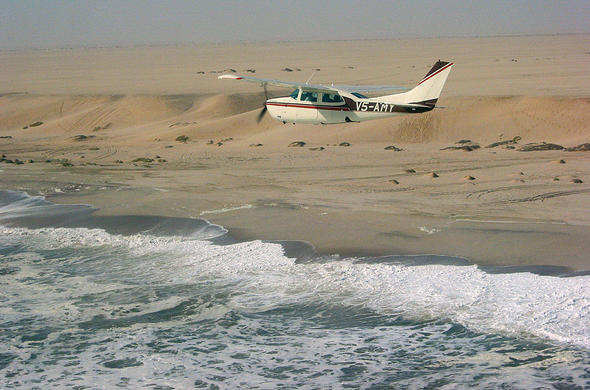 Skeleton Coast fly-in safari. Namibia
It is midday and the desert is bleached by harsh sunlight. The Namib-Naukluft dune field looks more like a mountain range of soft-whip butterscotch ice cream as we
fly west across the heart of the desert
. After an hour or so, I become aware that the Cessna is losing altitude. A harsh white line wavers in the heat haze far ahead while, below, the dunes are flattening as if someone has tugged the folds from the edge of the Namib. 
It happens so abruptly, in a matter of seconds. First, the scattered salt pans, blinding white and so flat I can see a crisp shadow of the Cessna 50m below. Then a row of small dunes, a beach, waves breaking, water churned to foam, and seals! Seals in their hundreds, leaping and twisting, somersaulting from the curling green walls of ocean breakers.
Now on a wing tip. Below, nothing but deep cobalt sea, streaked with creamy froth. Glistening brown stems of kelp loop above the surface like the arms of a sea monster. The Cessna levels out and we are flying north, low and fast above the waves of Namibia's fabled Skeleton Coast. - William Gray.
13. Hear the call of a Chimpanzee
It's the most exciting animal call I've heard. An agitated hoot erupts from the forest interior, just one voice at first, then two, then maybe a dozen, rising in volume, tempo and pitch to a frenzied crescendo that fades, without warning, into silence. The chimpanzee's communal 'pant-hoot' vocalisation — through which individuals within mutual earshot identify each other — always stops me dead in my tracks.
And in Tanzania's Mahale Mountains the explosive hooting also brings with it the anticipation of an imminent chimp sighting. Thirty minutes later, I sit watching these fascinating apes, so recognisably human in manner and behaviour, and they start up again... one hoot, then two, then a dozen, oblivious to my presence but all around me, coming from every direction, only metres away. It is genuinely spine-tingling. - Philip Briggs.
12. Spot a Leopard at night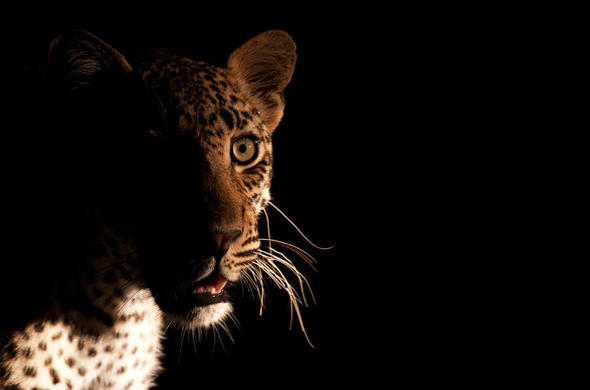 Leopard, leopard burning bright..
.
Night drives in search of nocturnal creatures are always exciting, but if there's one animal that sets my pulse racing, it's the leopard. The golden, spotted cats are the
most beautiful of Africa's animals
, and to see them on the move, hunting by the moon when they are so obviously at their most lethal and effective, is simply awesome.
I've been fortunate to track leopards in many corners of Africa, though the Sabi Sand Game Reserve reigns supreme. Both of my 'best leopard days' — seven different leopards in a drive — have been here. - Daryl Balfour.
11. Climb the world's tallest dunes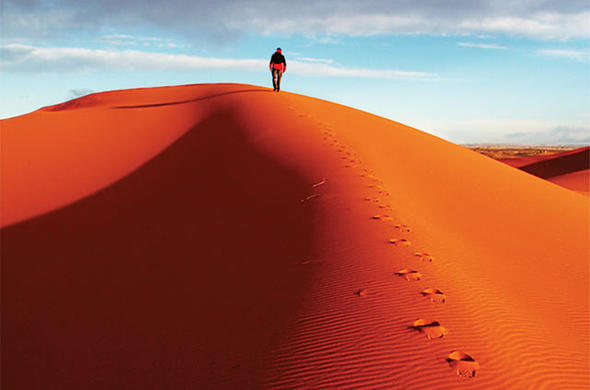 Dune 7. Sossusvlei
Arrive at Namibia's Sossusvlei in the early evening, as I first did, and they look like low hills. Driving towards them, it was almost a shock to find sand dunes. I started climbing at dawn when the
sand was cool and compacted
, but still it was tiring. For every three steps you take up, you slide down two.
After a while you stop and look behind, to catch a breath and be reminded of the reason for all your exertion. You've climbed far above the silvery-white pan. Distance lends perspective: the foliage of knurled old camelthorn acacias seems soft and feathery and the spiky, leafless stems of nara bushes appear like bright green icing on low dunes.
All around, dominating the view, are sinuous sand sculptures: terracotta dunes forming perfect curves — each partly iridescent, partly in shadow. Sossusvlei is perhaps Africa's most beautiful sight — but visit early before the sun gets high, the light flattens and the temperatures rocket. - Chris Mcintyre.
Copyright © 2004 Travel Africa Magazine. All rights reserved. Reproduction in whole or in part without the permission of the author is prohibited.