Africas Top 50 Experiences | No. 50 | 41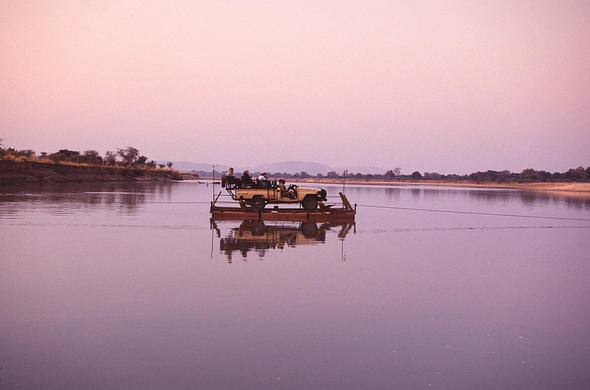 If you could choose one experience - one special moment - in Africa, what would it be? Tricky question, isn't it? So imagine the head-scratching, floor-pacing and heated debate that went into Travel Africa's ultimate Top 50.
From the shores of the Mediterranean to the snows of Kilimanjaro; from mountain gorillas to whale sharks, and from rafting to pony trekking, we've sifted the highlights of this extraordinarily rich and diverse continent to bring you the best of the best.
And if that wasn't enough of a challenge, we've also graded them, from No. 50 to No. 1. Controversial? We hope so. Part of the magic of Africa is that it stirs such strong emotions - so let us know what your No. 1 is. Are we way off the mark? What's on your African dream list?
Here follows the Top 50-41
50. Marvel at Leptis Magna
The idyllic ruins of Leptis Magna more than compensate for the hot and sticky shared taxi ride from Tripoli on a Libyan summer's morning. This is a place of vanished Roman splendour, complete with grandiose forum, baths, theatre and amphitheatre. Well-worn steps take you down to ancient street level, into a city built in the third century ad to rival Rome.
On visits to Leptis, I wander and clamber. Redstarts flit on secret missions between recesses in the honey-stone walls; gorgon heads keep watch. There is always a hawk hunting the reed beds where the galleys once moored. When you have dwelt enough on the Roman builders' precision and imperial hubris, head to the lighthouse for a swim - an Odyssean moment jumping off rocks into the wine-dark sea. Justin McGuinness
49. Spot a rare shoebill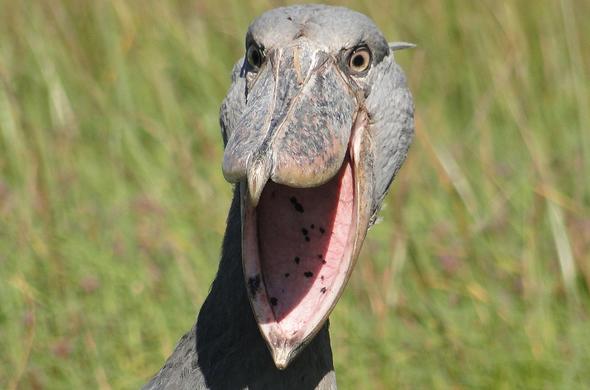 Discover the Shoebill with Robin Pope Safaris. Zambia
At a small fishing village on the southern shore of Uganda's Lake Albert, a crowd has gathered to watch us launch our skiff. Children run barefoot through drifts of silver fish scales,
clambering onto wooden dugouts
for a better view.
In a few minutes, we are afloat and nosing through rafts of floating hyacinth towards a quiet corner of the lake. In the space of an hour we
spot not one, but two shoebills
(imagine a cross between a dodo and a heron) - steely blue against a curtain of shoreline papyrus.
It's more of a 'clog' than a 'shoe'; an enormous beak that makes short work of the African lungfish (by no means a tiddler itself). We paddle slowly to within a dozen yards of one of the birds - a beautiful, elegant creature despite its massive conk. Neither of the shoebills do much, but then animals as rare as this don't have to. It's enough just to glimpse them, to savour the memory of a privileged encounter. - William Gray
48. Take a bush shower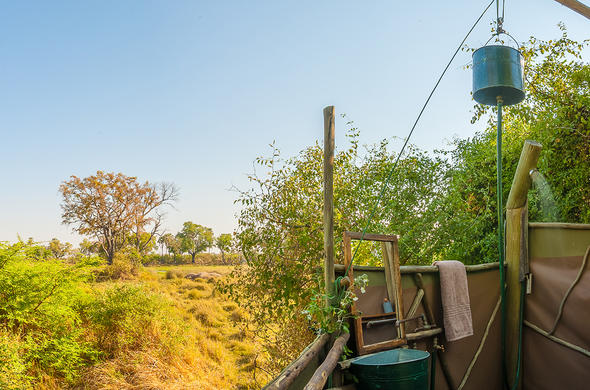 Oddball's Safari Camp. Botswana
Safari is a dirty business. Some trips
coat you in fine powdered earth
; on others, desert grit scours every inch of your skin. So I savour a G&T in the sunset, doze while a spring hare proves to be the star of the night drive and finally, with relief, reach camp.
Dinner looms, but I escape for the most invigorating elixir of the day. I peel off my khaki and step outside into the shower. Hot water steams in the cool evening air. Warming rivulets soap away the remains of the day, layer by layer. This is bliss. It's very cathartic.
Moonlit bats flit between clear stars and leafy outlines of nearby trees. I don't want to leave. Nothing can tempt me out. Then, without warning, the torrent wanes. It splutters, reducing to a dribble. My skin prickles in the cool night air as reality dawns: the bucket is empty. - Chris McIntyre
47. Eyeball a Great White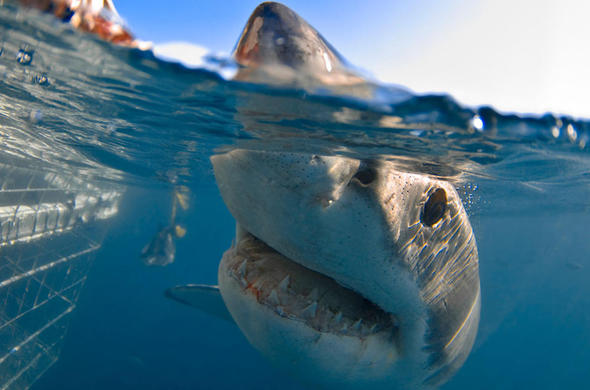 I hit the cold Cape sea and suck hard on the regulator, searching the water around the cage, feeling like 'Andrew and chips' on the lunch menu. Turning around, I suddenly find myself eye-to-black eye with a great white shark. It's studying me. The sheer beauty and power of this apex predator leave me momentarily breathless.
When more sharks arrive, I marvel at their social interaction. These misunderstood denizens of the deep seem sensitive and curios around humans - the one species that has been responsible for their demise. So, get to the Cape, get on a boat, pocket your fear, get in the water and you'll emerge feeling like a new person. A little colder, perhaps, but definitely revitalised. - Andrew Woodburn
46. Watch dawn break from Mt Sinai
Africa is renowned for stunning sunsets, but this is a place for 'sunuppers'- not sundowners. It is a place where an African dawn is nothing short of magical. Camel owners wait along the path to offer their services to pilgrims and travellers alike, to help them up the switchback trail to the summit of Mt Sinai, where Moses received the Ten Commandments.
It is a small mountain, 2285m high, crowned with an unimposing chapel. I have spent many a night atop this mountain. It is cold until the morning sun picks out the range of peaks. The rocks, poking up from a cotton-wool carpet of cloud below, glow with orange and golden hues. Long shadows are cast before me and long spiritual thoughts are cast into the recesses of my mind. - Guy Marks
45. Taste a dozen chardonnays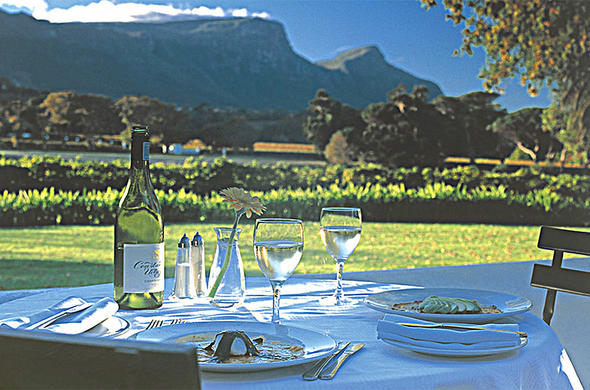 Nothing beats the sybaritic pleasures of the Cape winelands. Arm yourself with John Platter's essential South African Wines, the quaffer's bible, and head first to Constantia with its grand Cape Dutch homestead, Groot Constantia.
On to Stellenbosch and Thelema Mountain Vineyards, reputedly the Cape's best winery with vintages that leave your taste buds tingling with delight. Then weave through Paarl, via the gardens at Morgenhof. Take time to enjoy a little home-made cheese with the 'benchmark chardonnay' at Glan Carlou.
In the Franschoek Valley (a glorious landscape of rolling vineyards and Cape Dutch farmhouses overlooked by glowering mountains) relish quiet lunches among lemon groves at Moreson Matin-Soleil. Feast on springbok at the Haute Cabriere Restaurant and sleep in an exquisite chalet among the vines at La Petite Ferme. Life doesn't get any better. - John Warburton-Lee
44. Pony trek in Lesotho
Pony trekking deep in the heart of Lesotho's Maluti Mountains instils emotions of pleasure, pain and freedom. These sensations arise from encountering nature and humanity at their most extreme - delighting at the infinite mountaintop beauty; hearing pitch-perfect voices of young herd boys soaring across the valleys, then anguishing at the cruel drought the Basotho people and their livestock have silently endured. 
On a sure-footed pony, I enter a medieval world of mud hut villages where remote peasant communities have only what they need to survive. Our lifestyles may be a million miles apart (I declined to share the same sleeping quarters as a recently slaughtered cow), but their spontaneous smiles and purity of emotions never made me wish I was anywhere but on a pony amongst these people in the Kingdom of the Sky. - Carrie Hampton
43. Wonder at San Rock Art
Some of the images leap out at me - a hunter with bowstring drawn or a group of prancing zebra. But more often than not, the rock paintings are faint and elusive - a fading legacy of the San artists who created them up to 30,000 years ago.
These extraordinary images, daubed on boulders and rocky overhangs along the Sevilla Trail in South Africa's Cederberg Wilderness Area, are not the most famous examples from the continent's treasure-store of rock art. But more often than not, it is what you see beyond these paintings that counts for more than the designs themselves.
Along with their hunter-gatherer lifestyle, the southern San have long-vanished. Ironically, some of their last paintings depict sailing ships, people in Dutch costumes and men with rifles - innocent records of the 17th century European invasion that would seal their fate. - William Gray
42. Stroll around a Moroccan Souk
To lose yourself in the souks of Marrakech is to find yourself in a city with a heart. The lifeblood of daily trade pumps through the alleyways. It is vibrant, exciting, sensuous. It is thronging, scented, noisy and strangely exotic for all its mundaneness.
There are stalls selling fresh oranges, dates and piles of roasted almonds. I love the dappled light that filters down between the buildings. I love the sight and sound of the haggling vendors, selling everything from household goods to leather poufs, kitchenware and tourist kitsch.
And every now and then in this extraordinary profusion, I come across a gem of Moroccan architecture - an open doorway leading to a quiet courtyard decorated with beautiful tilework, a drinking fountain or a mosque adorned with arabesque calligraphy. Yes, this is the place to lose yourself. - Guy Marks
41. Explore the fish river Canyon
I love the Fish River Canyon, but judging by the lack of crowds, few others feel the same way. The road there is intriguing: perpetually climbing and then swiftly dropping, like a fairground roller coaster. Crest by crest, the landscape gradually reveals itself, but the huge gash in the earth, which is the Fish River Canyon, comes as a surprise.
One moment there's a rolling, rocky landscape; the next you are gazing down into one of the world's largest canyons. Walk along the rim, savouring the changing view. If you're lucky, you may spot a klipspringer. At the bottom, Ai-Ais is magical: drive down through walls of rock to a pool of naturally hot mineral water amid this deep river valley. Wherever you go, you'll rarely see others; the Canyon is a soulful place to get up-close and personal with mother earth. - Chris Mcintyre
Copyright © 2004 Travel Africa Magazine. All rights reserved. Reproduction in whole or in part without the permission of the author is prohibited.