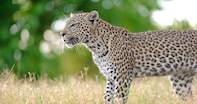 © Shem Compion
From the shores of East Africa to the snows of Kilimanjaro; from mountain gorillas to whale sharks, and lakes filled with flamingos, we've sifted the natural highlights of this extraordinarily rich and diverse continent to bring you the best of the best African Safari Nature Experiences.
Spot a Leopard at Night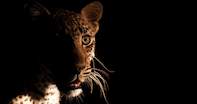 Night drives in search of nocturnal creatures are always exciting, but if there's one animal that sets my pulse racing, it's the leopard. The golden, spotted cats are the most beautiful of Africa's animals, and to see them on the move, hunting by the moon when they are so obviously at their most lethal and effective, is simply awesome. I've been fortunate to track leopards in many corners of Africa, though the Sabi Sand Game Reserve reigns supreme. Both of my 'best leopard days' — seven different leopards in a drive — have been here. - Daryl Balfour.
Lose Count of Kenya's Flamingos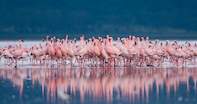 Lake Bogoria National Reserve. Descending the Rift Valley escarpment to Lake Bogoria, fringed mysteriously with steaming geysers and hot water spouts and wreathed in a million (or more) gorgeous pink and white flamingos, is one of Africa's great wildlife experiences. Both lesser and greater flamingos gather here in vast numbers each year. The colours are sensational, the sounds hardly harmonious and the experience truly wonderful. - Daryl Balfour
Hear the Song of the Indri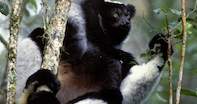 How often have I done this — stood under a tree in Andasibe National Park, eyes upward, neck aching, clothes damp from the morning mist? Over a dozen times, at least, and yet when the first 'whoooooop!' shatters the silence, I am grinning from ear to ear like the other tourists. There are a lot of lemurs in Madagascar — at least 50 species — but none has the tingle factor of the indri when it greets the first touch of the sun in its rainforest home.
This is a large animal on an island of miniatures and its voice is colossal. Imagine the song of a whale, amplified, and add the urgency of a police siren. All this from a black-and-white teddy bear with funny stuck-on ears and round yellow eyes. - Hilary Bradt.
Spot a Rare Shoebill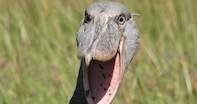 Discover the Shoebill with Robin Pope Safaris. Zambia At a small fishing village on the southern shore of Uganda's Lake Albert, a crowd has gathered to watch us launch our skiff. Children run barefoot through drifts of silver fish scales, clambering onto wooden dugouts for a better view. In a few minutes, we are afloat and nosing through rafts of floating hyacinth towards a quiet corner of the lake. In the space of an hour we spot not one, but two shoebills (imagine a cross between a dodo and a heron) - steely blue against a curtain of shoreline papyrus.
Hear the Call of a Chimpanzee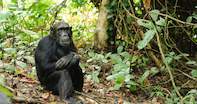 It's the most exciting animal call I've heard. An agitated hoot erupts from the forest interior, just one voice at first, then two, then maybe a dozen, rising in volume, tempo and pitch to a frenzied crescendo that fades, without warning, into silence. The chimpanzee's communal 'pant-hoot' vocalisation — through which individuals within mutual earshot identify each other — always stops me dead in my tracks. And in Tanzania's Mahale Mountains the explosive hooting also brings with it the anticipation of an imminent chimp sighting.
Thirty minutes later, I sit watching these fascinating apes, so recognisably human in manner and behaviour, and they start up again... one hoot, then two, then a dozen, oblivious to my presence but all around me, coming from every direction, only metres away. It is genuinely spine-tingling. - Philip Briggs.
Eyeball a Great White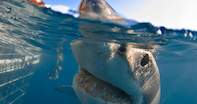 I hit the cold Cape sea and suck hard on the regulator, searching the water around the cage, feeling like 'Andrew and chips' on the lunch menu. Turning around, I suddenly find myself eye-to-black eye with a great white shark. It's studying me. The sheer beauty and power of this apex predator leave me momentarily breathless.
When more sharks arrive, I marvel at their social interaction. These misunderstood denizens of the deep seem sensitive and curios around humans - the one species that has been responsible for their demise. So, get to the Cape, get on a boat, pocket your fear, get in the water and you'll emerge feeling like a new person. A little colder, perhaps, but definitely revitalised. - Andrew Woodburn
Witness the Desert in Flower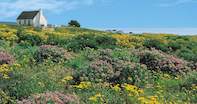 From a pass high in the Kamiesberg mountains there was a brief, tantalizing view of the Atlantic Ocean - searing blue against the tawny haze of Africa. But I didn't stop. My sights were set on the road's edge and beyond, into the fields and arid plains of Namaqualand, where swathes of copper-coloured daisies glowed like fresh magma. I was driving through one of the world's greatest wildflower spectacles, where each spring (following good rains), the bleached desert turns technicolour.
Over 4000 species join the floral riot - from ground-hugging, fleshy-leaved succulents to the dramatic, metre-tall flowering spikes of the yellow katsterte, each one glowing like the trail of a firework rocket. But the show-stealers were the daisies - each one a mini-miracle, enduring summer's torment as dormant seeds, germinating after winter rains and then flowering and setting seed in spring before wilting and dying. - William Gray
Meet Africa's Ocean Giants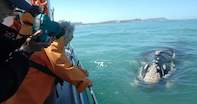 There is no greater thrill than a close encounter with some of the world's largest sea creatures. Being able to swim with whale sharks, manta rays and humpback whales all in one day is particularly mind-blowing. Mozambique is one of the very few places worldwide where this opportunity exists.
Witnessing the immense power of a humpback whale's rhythmic tail, leaves you gasping for breath through your snorkel. Diving with giant manta rays is like being surrounded by graceful magic carpets, while snorkelling with a peaceful, harmless whale shark (the world's largest fish) is both sobering and emotive. - Andrew Woodburn