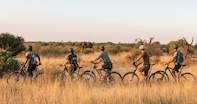 Adventure safari on horseback at Mashatu Game Reserve, Botswana.
Adventure Safari Lodges for the wild at heart! Avoid the crowds and enjoy an unforgettable African safari experience at one of these remote adventure safari lodges in Africa.
Embark on thrilling game drives to track an abundance of wildlife, or explore the bush by foot with a knowledgeable game ranger and delight in private accommodation away from the mass tourism hot spots.
Unique adventure safari activities include horseback safari tours and cycling safaris. The focus is on Adventure safari activities, sensational game viewing and immersing yourself in nature.
Adventure safari lodges offer accommodation in rustic tented camps or comfortable safari lodges.
Our Siyabona Africa Destination Experts will create a tailor-made safari itinerary to ensure you get to explore the most exciting safari destinations in Africa.