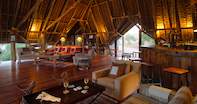 Jongomero is a classic safari lodge in Tanzania.
These classic safari lodges in Africa offer comfortable accommodation and facilities for guests looking for a classic lodge safari. The focus at these camps and lodges is on safari activities and excellent wildlife viewing.
Enjoy an authentic wildlife safari led by expert guides and trackers who will ensure you experience the best possible wildlife sightings on your classic lodge safari vacation.
There is a range of different classic lodge safari experiences to choose from - seeing the Great Migration is on many people's bucket lists, or what about something off the beaten track where you can immerse yourself in the wilderness? Niche safari experiences like a fishing safari on Lake Victoria or a golf safari in the Great Rift Valley are all possibilities.
Our Destination Experts will be happy to create a tailor-made itinerary and suggest the best classic safari lodges in Africa to ensure you have a memorable safari.