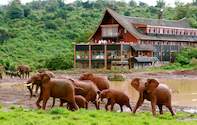 This unique tree-top style stilted lodge is set in thick woodland in the heart of the Aberdare National Park. The waterhole attracts an array of animals. Let the wildlife find you at The Ark!
Accommodation is in en-suite rooms
Viewing decks and balconies from every angle
Incredible face to face experience with Elephants
Buzzer system to wake you up for special sightings
Set in the heart of the Aberdare National Park, The Ark is a unique tree lodge that overlooks a floodlit waterhole and a saltlick that attracts a host of wildlife. Elephant, Rhino, Leopard, Bushbuck and occasionally an elusive Bongo and giant forest Hog has been sighted.
Resembling and named after Noah's Ark, The Ark is designed with 'decks' from which numerous balconies and lounges provide superb vantage points for game viewing. A ground-level bunker provides excellent photographic opportunities and takes you closer than you would believe possible to the animals.
Watch the constant comings and goings at the waterhole and salt lick. Elephants love the natural salt lick and get onto their knees to dig into the ground with their tusks. They then lick up the salty earth. This goes on for hours and they finally quench their thirst at the waterhole. Numerous other animals visit this busy meeting place all day and night so there is always something to see.
A buzzer system operates in each room to alert you when there is something very special to see such as a Leopard, who usually sneaks to the floodlit waterhole in the dead of night. It is of course up to you whether or not you get up!