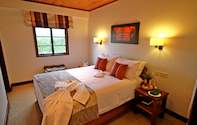 The Ark in Aberdare National Park consists of 60 cabin-style en-suite rooms on 3 levels, providing fabulous views of the park and wildlife.
All cabins have a private bathroom with shower and are comfortably furnished to enjoy views of the forest or waterhole. Accommodation in Aberdare National Park at The Ark consists of 60 en-suite rooms.
Room layout
6 single bedrooms
37 twin rooms with 2 single beds in rooms
10 double rooms with 1 queen bed in rooms
7 triple rooms with 3 single beds in rooms
Dinner, bed and breakfast are served 'on board' The Ark in the main dining room. Located on one of the viewing decks is a bar and lounge which remains open all night for tea and coffee.