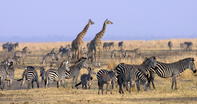 Discover the true gems of Africa on these exquisite getaways that vary in duration and can be customized to suit your travel needs. These African safari trips include stays at some of the best destinations and safari lodges in Africa.
Explore the African wilderness, track the African Big Five wildlife, venture on desert walking safaris, or relax on the most exquisite beaches with your favourite cocktail on the African Coast.
All these safari trips are merely a suggestion - our safari trips can be tailor-made to suit your time and budget. Let our Destination Experts know what you want to see and do on your African safari trip and they will create an itinerary just for you.