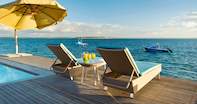 Places you will visit:This package includes: Royal Legend Safari Lodge, Timbavati Private Game Reserve - South Africa, Dugong Lodge, Vilanculos, Marlin Lodge, Benguerra Island - Mozambique.
Suitability: Ideal for guests wanting to combine a safari in the bush with some fun water activities at the beach.
Note: This package is based on arrival and departure from O.R Tambo International Airport.
Combine the wildlife of the bush with the beauty and tranquility of a tropical island.
Days 1 - 4: Timbavati Private Game Reserve, South Africa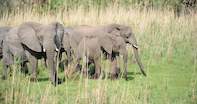 Depart from O.R. International Airport (Johannesburg) to Eastgate Airport in Hoedspruit. From here you will be transferred by road to Royal Legend Safari Lodge. The lodge is located in the Timbavati Private Game Reserve, which is part of the Greater Kruger National Park.
The lodge buildings are all placed to provide seclusion and intimacy without compromising the natural surroundings. The earthy tones of all the buildings blend into the bush. From the moment you set foot in the entrance of the lodge, the luxurious feel of the lodge reaches out and welcomes you.
Check in at Royal Legend Lodge for 4 nights, one double room with en-suite facilities. All your meals, 2 game drives and one bush walk per day, all teas and coffees are included in your stay.
Days 5 - 7: Vilanculos, Mozambique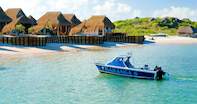 After breakfast, you will be transferred by road to Kruger Mpumalanga Airport from where you will fly to Vilanculos Airport in Mozambique for your Mozambique beach holiday. Here you will be met by a Dugong Lodge representative and taken on a 35 minute boat transfer to Dugong Lodge.
Dugong Lodge is situated on the East-African seaboard, on the coast of Mozambique within the boundaries of The Vilanculos Coastal Wildlife Sanctuary, the first privately managed National Park in Mozambique. The Sanctuary covers 30 000 hectares of pristine marine and wildlife territory.
Dugong Lodge is a unique 'Bush and Beach' experience in a hidden corner of sub-tropical Africa - an idyllic setting with 10 luxury tents built on raised decks in the cool shade of Msasa trees and a Jecka grass canopy. Dugong Lodge has a beautiful lounge and restaurant on raised wooden mahogany decks with a jetty jutting out into the protected Vilanculos Bay.
Your 3-night stay at Dugong Lodge will be in a luxury tent with en-suite facilities. All rooms are equipped with mosquito nets. All meals, teas and coffees and non-motorised water sports are included on this Mozambique beach holiday.
Days 8 - 13: Benguerra Island, Mozambique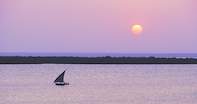 After breakfast at Dugong Lodge, you will be transferred to Marlin Lodge by boat, which is situated on Benguerra Island. It is a very exclusive lodge, with only 19 en-suite chalets. Each sea-facing chalet has a private patio with a walkway down to the beach.
Enjoy a private sit down dinner for 2 on your patio watching the silver moon rising over the ocean. Dinner ranges from semi formal in the dining room, to tables laid out on the beach at the end of an avenue of Palm fronds and Flamingo torches. Crisp salads, spicy poultry, limitless flavours of seafood create a blend of Afro-Asia and Portuguese cuisine.
You are accommodated in a luxury chalet at Marlin Lodge for 6 nights in a luxury chalet. Your accommodation includes 3 meals per day, windsurfing, ocean ski paddling, catamaran sailing, a dhow cruise, island tour and excursion drive.
Day 14: Departure
After breakfast, you will be transferred from Marlin Lodge to Vilanculos Airport by boat. You will then fly back to O.R. Tambo International Airport (Johannesburg).
Included
Flight from Johannesburg to Eastgate Airport
Road transfer from Eastgate Airport to Royal Legend Safari Lodge
Accommodation at Royal Legend Safari Lodge for 4 nights in one double room with en-suite facilities. All your meals, 2 game drives and one bush walk per day, all teas and coffees are included
Road transfer from Royal Legend Safari Lodge to Kruger Mpumalanga International Airport
Flight from Kruger Mpumalanga International Airport to Vilanculos Airport, Mozambique.
Boat transfer from Vilanculos to Dugong Lodge
Accommodation at Dugong Lodge for 3 nights in a luxury tent with en-suite facilities. All meals, teas and coffees and non-motorised water sports are included.
Transfer from Dugong Lodge to Marlin Lodge
Accommodation at Marlin Lodge for 6 nights in a luxury chalet. Your lodging includes 3 meals per day, windsurfing, ocean ski paddling, catamaran sailing, dhow cruise, island tour and excursion drive.
Transfer from Marlin Lodge to Vilanculos Airport
Flight from Vilanculos Airport to Johannesburg
Not Included
Timbavati Entrance Fees
Mozambique Airport taxes
Marine Park Fee
Additional activities not mentioned above
Meals not mentioned above
Drinks and beverages not mentioned above