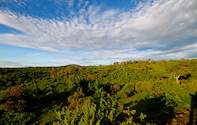 The Ark is usually reached via the Aberdare Country Club.
Tucked away at the heart of one of Kenya's Aberdare National Park, The Ark lodge is an ark of discovery, from the drawbridge entrance to a choice of terraces overlooking the floodlit Yasabara waterhole.
The rustic environment offers a charming retreat for overnight visitors eager to view the local wildlife at close range. The Ark overlooks a floodlit waterhole and saltlick which attracts a host of wildlife such as Elephant, Rhino, Leopard and Bushbuck.
Aberdare Country Club can arrange your transport into The Ark - which is 40 minute drive. The Ark Lodge is 16km (10 miles) from the Mweiga airfield or one hour's drive from Nyeri airstrip or 2 hour from Nanyuki.