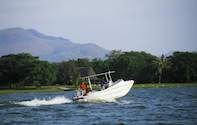 The perfect Lake Victoria fishing holiday destination - Rusinga Island Lodge offers guests a serene environment with elegant accommodation next to Lake Victoria in Kenya.
Lake Victoria fishing
Safe family friendly environment
Enjoy a wide range of water sports
Ideally located in Ruma National Park, Kenya
Rusinga Island Lodge boasts an ideal setting on the shores of Lake Victoria with beautiful lawns stretching down to the water's edge. Exotic trees are home to a range of diverse bird species, many of which are unique to this area.
This Africa safari lodge provides a safe environment for children to enjoy. Parents can relax with some of the indulgent spa treatments available. Alternatively, take advantage of the lodge's setting and enjoy a range of exciting water sports, such as water skiing.
Afer an exciting day's fishing for Tilapia and Nile Perch or relaxing along the water's edge, guests can retire to their luxurious cottages. Families can be accommodated in a family cottage. This Kenya safari lodge in Africa boasts cottages with en-suite bathrooms, high thatched roofs and spacious patios overlooking the lush gardens and scenic Lake Victoria.