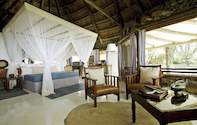 Rusinga Island Lodge provides guests with elegant and family-friendly Lake Victoria accommodation in Kenya.
Rusinga Island Lodge provides elegant accommodation in spacious cottages. The cottages boast high thatched roofs and spacious patios which overlook the lush green gardens and beautiful Lake Victoria. The walls are made from stone.
The family cottage consists of a twin and double room with an interconnecting door. Each cottage at this family-friendly Lake Victoria accommodation features an en-suite bathroom and its own veranda overlooking the lake.
The bedrooms of this Lake Victoria accommodation are either twin with 2 queen size beds or double with a king-size bed. The spacious en-suite bathrooms feature double sinks and 'soup plate' showers. The cottages are stylishly decorated with elegant fabrics.