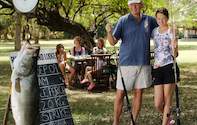 Rusinga Island Lodge offers a range of fun-filled activities including Lake Victoria fishing, birding, hiking, watersports, mountain biking and safari game drives.
Rusinga Island Lodge is situated on the shores of Lake Victoria, making it ideal for fishing enthusiasts. Guests can fish in Lake Victoria for the enormous Nile Perch along the shores and shallow water, or cast for Tilapia in the evening from the lodge's jetty. Both fish make delicious meals and the kitchen will gladly cook your catch for you.
Guests on their Africa safari holiday can enjoy the diverse birdlife around Rusinga Island Lodge. Guests can spot Fish Eagle, sunbirds and kingfishers. Ruma National Park is home to more than 369 species of local and migratory birds.
Take a short boat ride to the nearby Bird Islands which is one of the most important breeding sites for water birds on Lake Victoria. Guests can also spot giant monitor lizards and spotted-necked otters on the rocks around the island.
The spa is the ideal place to relax and indulge in a range of aromatherapy and massage treatments. Guests on their Kenya family safari holiday can look forward to a range of water sports available for all age groups. Enjoy water-skiing, mono-skiing, knee-boarding, tubing and mountain biking.
Guests can also take a short boat ride to Mfangano Island and hike uphill to view the ancient rock art. Visit the local Luo community who fish along the shores in colourful canoes and sailing dhows.
Dining at Rusinga Island Lodge is an event to look forward to. Breakfast and lunch are served al fresco on the lawns allowing guests to enjoy beautiful views over Lake Victoria. Dinner is served in the Fish Eagle House or alternatively, enjoy a romantic candlelit dinner on the jetty of by the pool.