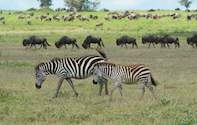 Sarova Mara Game Camp is a centrally located, tented camp in the heart of the Masai Mara in the middle of well-grazed grasslands. It is an excellent base for a Great Migration safari in Kenya.
Great Migration safari in season
See wildlife on guided game drives
Central lodge with bar and large dining room
Masai Mara hot air balloon safari
Nothing quite captures the true spirit of East Africa, like a great migration safari in Kenya's richest game sanctuary, the Masai Mara. It is here that the wildebeest arrive from their long journey from the Serengeti in July or August.
A swimming pool is such a treat at Sarova Mara Game Camp, and this one will cool you off in the heat of the day when all the animals are resting (and when you should be too).
Expect a wide choice of extremely good food at all meals, which are served in the main lodge. At Sarova Mara Game Camp you will also find a bar and entertainment area where Maasai warriors perform traditional dances to the amazement of visitors.
Sarova Mara Game Camp is the headquarters for Transworld Safaris Hot Air Balloon flights over the endless grass plains. Float for an hour then land amongst the animals for a champagne breakfast cooked by a chef in whites. There is nothing quite like it.