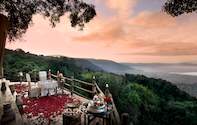 World-famous Ngorongoro crater remains a place of drama and beauty - the most remarkable wildlife haven on our planet. Enjoy a stay in the exclusive Ngorongoro Crater Lodge, on the edge of the crater, amidst impressive scenery.
perched on the edge of world-famous Ngorongoro Crater
three exclusive camps offering luxury accommodation
ideal year-round game viewing opportunities
discreet atmosphere
At the eastern edge of the Serengeti, the Lodge is perched on the edge of the famous Ngorongoro Crater. The exclusive lodge assembles a Masaai village and offers luxury accommodation. Its three discreet camps with magical suites are the ideal place for an unforgettable experience in the African wilderness.
Without doubt, the Ngorongoro Crater Lodge is one of Africa's architecturally most spectacular safari lodges. It consists of three camps with 30 Maasai-inspired suites. Each suite's opulent design blends with African art elements in unexpected harmony. The facilities include a central living area, viewing decks overlooking the awesome crater, outside and inside dining areas, a communal curio shop, gallery and Maasai market.
Several activities, including spectacular game viewing, visits to a Maasai cultural village, guided walking safaris following a dramatic route or excursions to the famous Olduvai Gorge will make your stay at Ngorongoro Crater Lodge an unforgettable African experience.