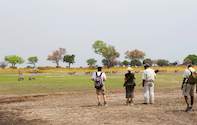 Footsteps Across The Delta host authentic Okavango Delta walking safari tours led by expert guides. Adventure safari travellers will revel in getting up close to African wildlife on foot.
Traditional down to earth walking safari camp
Bath tub under an Ebony tree
Guides who make you feel safe
The whole camp to yourself
Footsteps tented camp is designed to let you feel Africa beneath your feet. It is so down to earth that when asked if there is running water, they reply 'Yes, you shout we run!' That is exactly how it is. Piping hot water is brought to your outdoor canvas safari basin in a bucket, and for a real treat they will fill up the outdoor bathtub (surrounded by a screen) and pour soothing oils or bubble bath in for a soak under the sun or the Botswana night sky.
Footsteps Camp in the Okavango Delta is for the adventurous safari visitor who wants to get out in the bush on his own two feet. An expert bush guide leads the way and another, armed with a rifle, brings up the rear. Sandwiched between these 2 you feel in good hands as you encounter the big game of Africa on their own ground.
At night Lions roar, Hyena whoop and the Hippo chomp on the grass right in front of your cosy tented room. In this Okavango Delta camp delicious meals, tasty bread and rolls are cooked in an earth oven heated by glowing coals.
The dining table faces a water channel and is decorated each night with all sorts of bush flora and amazing napkin creations. There is no dressing for dinner here. It is a very informal camp. Guides and guests gather around the fire before and after dinner for drinks and stories.
By the light of a torch and with the help of lanterns along the path, you are accompanied back to the safety of your room to listen to the night sounds of Africa. You are guaranteed a very special vacation at Footsteps Across the Delta. The Footsteps Botswana safari is usually offered as a 2 or 3-night programme from nearby Shinde Camp.
In contrast to Footsteps, Shinde offers considerable luxury, and getting back to newly laundered clothes, flush toilets and electric lights seems like a real treat.