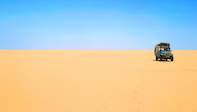 An essential guide to the ins and outs of crossing the world's most exciting continent. By Matt Ross
The Dream - Introducing the Overland Expedition
In "The Seven Pillars of Wisdom", TE Lawrence wrote: 'Those who dream by night in the dusty recesses of their minds wake in the day to find that it was vanity; but the dreamers of the day are dangerous men, for they may act their dream with open eyes, to make it possible.' Every year, hundreds of Western travellers set off to live their dream at the wheel of a 4x4, driving into the heart of Africa on independent vehicle-based self-drive expeditions. There they learn that while most forms of travel broaden the mind, expedition travel cracks it wide open.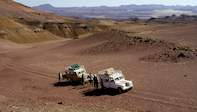 Near Kuidos Camp in the Huab Valley. Damaraland. Namibia
Overlanders can get off the beaten track to unspoiled regions where the tourist is unknown, where traditional cultures survive untouched by the Western world. They can change their plans at a moment's notice, interact with local people without the distorting insulation of a guide — in short, they can taste the authentic, 24/7, 360-degree Africa.
Above all, they can experience the overwhelming joy of truly self-sufficient exploration; the empowering, liberating thrill of setting out to do something a little bit amazing — and discovering that they can.
The 4x4 expedition has more to offer than most forms of travel, but it also presents some of the greatest tests. Package tourists pay a company to anticipate all their needs and backpackers find local people to satisfy their requirements — but expedition travellers depend solely on themselves.
For independent overlanders, deprived of the safety nets of Western life and the tourist circuit, every day is a step into the unknown. It sounds daunting, and it is: when the only certainty is uncertainty, you can never expect to feel completely in control. Yet with this uncertainty come enormous benefits: the buzz of independent discovery; the excitement of coming across something unplanned, unexpected and marvellous.
If the practicalities detailed here seem intimidating, then absorb the underlying theme: that a 26-year-old, mechanically-incompetent guy from Slough drove 50,000 miles to South Africa and back in a disintegrating, 20-year-old Land Rover — and loved every minute.
So maybe you've got a dream; a hankering to feel the freedom of Africa. If so, you know your next move: to 'act your dream with open eyes, to make it possible'. If my experience is anything to go by, it might just be the best experience of your life.
Routes Across Africa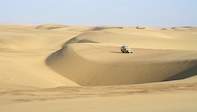 Terrace Bay. Namibia.
The ultimate African expedition, of course, is the journey from Cairo to the Cape. After a period during which wars in Ethiopia, Eritrea, Chad and Sudan blocked this route, it now carries a steady trickle of 4x4s. True, the Congolese and Angolan conflicts force drivers to head down the east coast through Kenya and Tanzania, while the Algerian insurgency precludes east-west travel across North Africa.
Furthermore, the Egypt/Sudan border crossing is so expensive and unreliable that many drivers reach Sudan via Morocco, western Africa, Nigeria and Chad. Yet the Cape to Cairo route is, fundamentally, open. Many of those new to expedition travel, however, prefer to ship their vehicle to South Africa or Namibia, where the roads are tarred and the language is English.
Breaking themselves in gently, they then travel through Mozambique, or Botswana and Zambia, to Malawi. From here, the road runs north to ports in Tanzania, Kenya or Djibouti. A sensible option, this route offers a travel experience of gradually increasing intensity, with the option of finding a container ship if it all gets a little too challenging.
Essential Skills
The best way to learn the art of expedition travel — and it's certainly not a science — is to set off on an expedition. Yet some skills are prerequisite: it would be extremely foolish to leave without a basic knowledge of off-road driving techniques, recovery, mechanics and navigation.
All these skills can be easily learnt in Britain. Many off-road centres, such as the Land Rover company's 'Experience', offer training in 4x4 driving and some also run courses in vehicle recovery (try Tuff Trax, 01788 510575, or David Bowyer, 01363 82666).
In terms of mechanics, drivers need a good grasp of the basic principles. Introductory courses can be helpful, but the best way to develop understanding is to do it for real: drive your 4x4 at home for a while, find a friendly mechanic and carry out all the essential maintenance, repairs and preparation yourself.
As for navigation, you need only the skills of a prudent hillwalker: the ability to read a map and to use a compass and GPS (Global Positioning System). In fact, the most important skills are those of communication. You'll never have enough knowledge to answer every question, but there's always someone who knows the solution. If you can get the communication right, the rest follows along behind.
The Vehicle and Equipment
There are four essential characteristics to look for in an expedition four-wheel drive vehicle: strength, simplicity, capability and parts availability. Everything else is peripheral, so don't be tempted by the luxury of a modern vehicle (delicate electronics are a liability in the bush) or the performance of a modified 4x4 (even the sturdiest modified parts will break in the end — the important thing is how easily you can replace them along the way).
The best expedition trucks, then, are the standard, common-model, hard-top Land Rovers and Toyota Land Cruisers, particularly those from the 1960s-'80s. An example in good nick might set you back well over £2500; allow another couple of grand for a rebuild, plus the cost of a good selection of spare parts, tools, jerry cans and recovery equipment (at least a high-lift jack, adjustable chains, tree strops and a good tow rope).
Go through the vehicle with a fine-tooth comb before you leave and don't compromise on your rebuild: the expedition will test your vehicle to the limit and any weak point will mean a repair job somewhere down the line. Nonetheless, you're bound to find yourself tackling a roadside repair at some point, and then you'll be glad that you're driving an old workhorse: they may always drive slowly and uncomfortably, but you can always get them to drive.
Travel Companions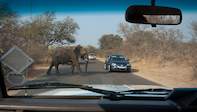 Elephant crossing the road in Kruger Park. South Africa
It's a rare individual who enjoys travel without companionship; most of us want to share the experience with someone. But you don't need to set off in a group: a few posters in backpacker haunts will fill a vehicle within days. Of course, you may not get on with your new travel companions — indeed, in the unfamiliar environment of overseas 4x4 travel, you may find that you don't get on with your closest friend.
The difference is that you can simply part company with someone you've met along the way. There are no passengers on an expedition vehicle: everybody has to contribute. Yet team members don't need expedition skills: if your friends keep you laughing when everything seems to be falling apart, they'll be turning a stressful nightmare into a memorable tale of entertainment in the face of adversity. And that, in part, is the secret of a successful expedition.
The Reality
Further Info
There are several expedition guidebooks; the most comprehensive is Tom Sheppard's Vehicle-Dependent Expedition Guide. Magazines such as Land Rover World and Land Rover Owner are useful for their advertising (relevant companies include Hannibal, Brownchurch, Servicetune, John Craddock and Mantec Services) and classifieds. 
Life on the Road
Overland travel is never easy, but it is always interesting. Each day brings a new set of experiences — and a new set of challenges. Happily, one attribute will carry you through every problem: the right attitude. Whether you're facing a rain-soaked campsite, a breakdown or a blocked track, the only worthwhile reaction is an attitude of unruffled, good-humoured determination.
When there's no effective alternative, it's surprisingly easy simply to get on with the job, to deal with the problem as best you can and to make the best of whatever solution you come up with. Language barriers are overcome with a big smile; corrupt officials respond well to a studied blend of careful respect and relaxed assurance.
Over the months, successful 4x4 travellers develop their skills along with their attitude. Eventually they learn how to use persuasion instead of a bribe; how to find their way when the maps are wrong and the roads disastrous; how to devise a viable repair without the parts or tools for the job. When they return home, these skills can be put into storage — but that attitude will always be a priceless asset.
Navigation
Every expedition driver dreams of getting well off the beaten track, an aim which also means getting off the signposted track and, occasionally, off the discernible track. Yet, in the main, Africa's shortage of roads makes navigation relatively simple: you can often drive for days without reaching a junction. In desert areas, navigation relies on GPS — a £100 handset that offers accurate longitude/latitude readings around the world.
Elsewhere, national road maps and 1:1,000,000 aviation charts (from Stanford's in Covent Garden, London) work well on major routes, while guidebook maps are good enough to get you into and out of cities. In true wilderness areas you'll need large-scale relief maps, available from the Surveyor-General's office in capital cities. But the best sources of navigational information cost nothing: local people and gut instinct.
Accommodation, Food and Water
For regular bush-campers without camper-converted 4x4s, the simplest and most secure place to pitch a tent is the roof of their own vehicle. Several companies sell dedicated roof-tents at £500-plus, although a high-quality hiking tent, pitched on top of a boarded roof-rack and covered with a tarpaulin, is nearly as waterproof and easily-erected (and an awful lot cheaper).
In picking a bush campsite, always remember the three rules. First, never block a track, cause any damage or leave anything behind. Second, stay hidden and at least a mile from habitation — if you really can't find somewhere discrete, ask permission to camp near a village. And third, always find a spot before nightfall.
For supper, vehicle-based travellers can enjoy all the fresh, organic foods of Africa, purchased at village markets where shopping is a real joy. But they can also carry substantial supplies of tinned and dried foods, and the ironware to get the best out of a campfire; don't miss this opportunity to eat like a king. You'll need a campfire anyway in many areas, because you'll spend your evenings boiling up three litres of drinking water for each traveller.
Security
Despite widely held misconceptions, Africa is generally extremely safe: most areas are less violent than Britain and serious crime is concentrated in cities and a few bandit hangouts. However, non-violent theft is commonplace - and expedition travellers must carry all their eggs in one four-wheeled basket.
Ensure that your vehicle has visible locks, a safe and, ideally, an alarm. Un-gated vehicles must be watched constantly - it's always easy to find a willing watchman. True, certain areas suffer from landmines, highway robbery, corrupt officials and street crime.
But here, local people are well aware of the risks and have developed ways to avoid them - overlanders must tap into this knowledge as they move around. In essence, the answer is not to worry about security, but to plan for it. Trust nobody completely, but avoid being distrustful; be bold, but never disregard a warning. Above all, remember that the real dangers are the everyday ones: forget bandits and lions, but remember road accidents and malaria.
Maintenance and Repairs
Expedition vehicles need looking after, and every driver should develop a set of daily, weekly and monthly maintenance routines. Nonetheless, things are bound to break and spares are scarce in Africa: second-hand and reconditioned parts are poor quality and main dealers extremely expensive. The solution is your own comprehensive spares selection, restocked through mail-drops from the UK's highly-economic aftermarket parts suppliers.
This is one area in which some expertise is essential: drivers must have the tools, parts and skills to keep a vehicle going, at least as far as the next town. Then Africa's mechanics, who more than compensate in ingenuity and ability for what they lack in electricity and equipment, can take over.  The best solution to breakages, however, is to avoid them. So drive like you're on eggshells, don't take risks - and watch the local drivers like a hawk.
Awkward Essentials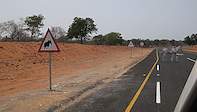 Zebra on the highway from Zambia to Botswan
These are the tedious bits: get an International Driving Permit, an International Certificate for Motor Vehicles and a Carnet de Passage to get your vehicle across borders. Available from the AA or RAC, these documents cost around £350 annually (including a £100 returnable deposit) or £150 if you've several thousand pounds to use as collateral. Travel insurance is essential for emergencies — as is a well-stocked medical kit — but only new vehicles can get pan-African vehicle insurance.

Some countries insist that you buy insurance or road tax at the border, while visas are normally purchased in advance. Prices vary: crossing a land border can cost a driver from £5 to £100. Crossing a sea border is a different matter: while an intercontinental shipping container costs around £600, port costs can total £400 — at each end. But you're not buying a car to go by sea: why not just drive to Africa?
Eventually most expedition travellers do return home, drawn back by friends, family and the luxurious ease of living on familiar territory. And when they come back, they bring with them a lot more than memories. Travel isn't just about exploring the world; it's also about returning with new skills and attitudes that will help with the very different challenges of life at home.
Overlanders learn how to communicate at a simple human level, cutting across cultural barriers; they learn how to look after themselves in strange environments and how to change their own moods and body language to suit the situation. Above all, they learn that they can do it; they learn confidence in their own ability to do things their way and succeed.
Paradoxically, it can be easier to adapt to an environment which seems constantly strange than to readapt to one which seems constantly normal. After you've travelled through such unfamiliar lands and returned changed in so many ways, home can seem like the strangest place of all. Yet in many ways this is one of the great strengths of travel - returning overlanders don't only bring a range of new skills, but also a far greater understanding of their own country and its place in the world.
As GK Chesterton wrote: "The whole object of travel is not to set foot on foreign land; it is at last to set foot on one's own country as foreign land." After two years as deputy editor of Land Rover World, Matt Ross drove his 20-year old Land Rover to South Africa and back, on a 50,000 mile journey that took him through 30 countries.
Self-Drive Other Options
Moving House
Need comfort, freedom and flexibility - but not 4X4? A motorhome could be right up your street. Several companies in southern Africa offer a range of vehicles suitable for a couple, a family of five - or anything in between. They come equipped with all you need for a few days touring to a month-long expedition.
A two-berth model, featuring stove, sink, refrigerator and sleeping/dining area, costs around £50-70 per day with unlimited kilometres. A top-of-the-range five-berth motorhome, with toilet, shower and even little luxuries like a toaster and coffee percolator, will cost around £70-85 per day. Standard insurance cover from around £6 per day is extra, as are one-way drop-off fees. There is usually a minimal rental period of five days.
The Wind in Your Hair
Travelling by motorbike provides a level of excitement and freedom unattainable in a car. They can also cope better in certain situations and tend not to be perceived by locals as great symbols of wealth. However, a long journey by motorbike requires stamina and an ability to travel light. Also, bear in mind that motorbikes are not allowed in national parks.
4WD Versus Motorhome
The type of vehicle you opt for will depend, first and foremost, on where you intend driving it and whether you plan to venture off-road. Also consider what creature comforts you need. A four-berth motorhome will come equipped with bunk beds, kitchen, toilet and hot water shower, whereas a Land Rover capable of carrying four adults will have more basic facilities, such as rooftop tents and a camping stove.
Price is another important factor with 4WD vehicles generally being more expensive than motorhomes. As a guide, allow £70-90 per day for a Land Rover Defender and £60-75 for a four-berth motorhome, both fully-equipped and including unlimited kilometres.
Copyright © 2004 Travel Africa Magazine.