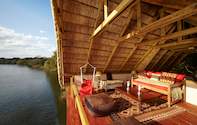 Tongabezi Safari Lodge is a stunning and unusual Vic Falls eco-lodge on the banks of the Zambezi, just upstream from the Victoria Falls.
Uniquely designed Vic Falls eco-lodge with a romantic feel
Some cottages are open fronted and face the river
Close to Victoria Falls and adventure activities
Boat cruises and fishing trips can be arranged
The romantic rooms seem to flow in continuous freeform so that some furniture appears to have grown out of the floor. The effect is very enticing. Décor is African influenced with attractive fabrics, flowing mosquito nets and unusual fittings.
Tongabezi's accommodation comprises of 4 open fronted houses overlooking the river, 5 river cottages and one garden cottage overlooking the river which are not completely open fronted. Only the seating area (living room area) is open, the bedrooms and bathrooms are closed.
Views over the Zambezi are stunning from Tongabezi and sunsets are incredible. The swimming pool is built into the rock cliff and looks out over the river, which in flood can come right up to the lodge. Various boat trips are on offer including sundowner cruises, canoeing and fishing jaunts.
Tongabezi has its own school for local children and is run with support from the lodge and donations. Take a walk up to the school and hear the children sing. The Victoria Falls is just a short drive away from Tongabezi and daily excursions take to you see this natural wonder of the world. The lodge is also well placed for visitors who are heading off or back from safaris in Zambia, Botswana and Zimbabwe.