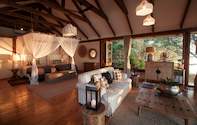 Tongabezi Safari Lodge invites 20 guests to stay in its cottages and houses along the Zambezi River.
The Honeymoon House has a private balcony for romantic dinners
The Tree House is hewn into a cliff face and has awesome views
Each house has a huge open-air sunken baths in each room
There are five River Cottages situated along the river bank
The free flow design and open front to most of the rooms is unique and very effective. Bathrooms have exclusive and spectacular views over the Zambezi and personal valets complete the attention to detail at this African dream lodge. The swimming pool feels almost as if it is almost part of the river and is set into the base of a rock cliff blending perfectly into the scenery.
The Honeymoon House The Honeymoon House is so-called because it was the first house, but each of the houses is built with romance and indulgence in mind. Your private balcony overlooking the river is the perfect setting for a romantic dinner under the stars, or you can choose to dine with our other guests on one of the river decks.
The Tree House
The house is made and furnished with local materials and designed to complement and enhance the natural surroundings, whilst creating a feeling of intimacy and privacy. Each is unique and will pamper to your most romantic of moods.
The Bird House
Sweeping views over the Zambezi River are a feature of every house. Great attention to detail has been paid to the bathroom areas and a special feature is the huge open-air sunken bath in every room, where you can both unwind to the serenades of an African evening.
The Dog House
Dominating each house is the huge, king-size bed, complete with luxurious down pillows and duvet, and a magnificent, airy mosquito net, so your sleeping comfort is assured.
The River Cottages
There are 5 River Cottages situated along the river bank. Each has a large double bed or 2 singles, mosquito net, en-suite bath and shower, and both indoor and outdoor areas for relaxing, dining and enjoying the expansive river views.
Garden Cottage
Tongabezi has one garden cottage. It has no river views but a private enclosed area with own living room and garden and a children's twin room. This is ideal for families.