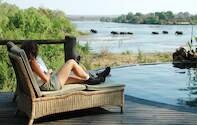 Just upstream from Victoria Falls, Sanctuary Sussi & Chuma is a 5 star Victoria Falls safari lodge that takes full advantage of its enchanting Zambezi riverbank setting.
Cultural visits to nearby villages
Private balcony in a tranquil setting
Riverboat cruises, fishing or relaxing by the pool
Daily visits to Victoria Falls and the Mosi-oa-Tunya National Park
Sussi Lodge and Chuma House is the perfect place for excursions to view the Victoria Falls, game viewing in Mosi-Oa-Tunya National Park, to enjoy some fishing in the Zambezi River, going on a riverboat cruise or simply relaxing after a busy Victoria Falls safari in the African bush.
Sitting on your private balcony in your exclusive treehouse is a wonderful way to spend the last few days of your Victoria Falls safari. If you want to spot more game, the lodge provides a safari vehicle for game drives within the park. You can see White Rhino when you venture into the Mosi-oa-Tunya National Park.
Sanctuary Sussi & Chuma offers daily excursions to Victoria Falls, where you can wander along a rainforest path to numerous viewpoints revealing ever more spectacular sights. Umbrellas are provided to keep the spray off.