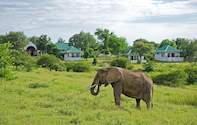 Formerly a private residential retreat, Chichele Presidential Lodge is a 5-star safari lodge occupying one of the most breathtaking sites in the entire South Luangwa National Park in Zambia.
Prime game area
Hilltop lodge with magnificent views
Luxury venue for the discerning guest
Night game drives and walking safaris a hallmark of Chichele
Ten elegant lodges have pride of place on the edge of the hillside and offer fantastic views across the animal-filled South Luangwa National Park. With its magnificent hilltop position inside one of Africa's most prolific game-viewing areas, Chichele Presidential Lodge is set to become one of the greatest safari lodges in Africa and a luxury venue for celebrities and upmarket tourists.
Night game drives and exciting walking safaris are the hallmark of a South Luangwa safari and Chichele Presidential Lodge offers all of these and more. There is even a swimming pool in which to cool off in between your excursions and added luxuries such as air conditioning, laundry service and a mini bar. Chichele Presidential Lodge is for the discerning visitor but one with a sense of adventure.