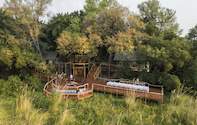 Shinde Island Camp is situated on a palm dotted island in the scenic Okavango Delta, Botswana.
Shinde Island Camp is located in the heart of the northern Okavango Delta, Botswana. The lodge is situated on the edge of a lagoon, the lodge is surrounded by clear waterways and palm-fringed islands teeming with African wildlife.
Access to Shinde Island Camp is by air. Guests will arrive at Maun Airport and can catch a transfer to Shinde Island Camp. The short flight from Maun will take about 30 minutes. Guests will then be transfered by road to the camp. The road transfer takes about 20 minutes.