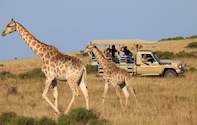 The prime location of Botlierskop Private Game Reserve allows for many exciting activities when on your Garden Route safari.
Activities on your Garden Route safari at Botlierskop Private Game Reserve include 3 hour guided game drives in 4x4 safari vehicles, rewarding guests with views of wildlife in their natural habitat. An experienced ranger will escort guests on game drives and nature walks to answer any questions about the area and its inhabitants.
Adventure seekers on the Garden Route safari can partake in adrenaline pumping quad biking excursions. Bikers will follow trails through indigenous fynbos, rugged mountains and scenic valleys, while viewing wildlife and the surrounding picturesque lanscape when on the Garden Route safari.
Fishing enthusiasts can enjoy the luxury of fishing from the comfort of their private jetties on the Garden Route safari. Guests have the option of relaxing in the boma area or on the private decks on their Garden Route safari, both comprising of exquisite views of the Outeniqua Mountain range.
Nature walks on your Garden Route safari consist of a 2 hour guided walk through diverse habitats like riverine forest, marsh areas, Fynbos and plains. During the walk the guide will point out, identify and explain the medicinal use of some trees.
Enjoy a Horseback Safari while exploring the wildlife and fynbos in the area. Only children over 7 years old are welcome and all experience levels are welcome. The Horseback Outrides are for experienced riders and ideal for game viewing. The rides last for 3.5 hours taking you through bushes and over mountains.