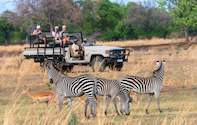 Tafika Camp is located just outside the Nsefu Sector of the South Luangwa National Park, in Zambia. The park has high concentrations of game.
Tafika Camp is situated in the Luangwa Valley which is home to a variety of wildlife including Lion, Leopard, Elephant and Buffalo. It is also home to Thornicroft's Giraffe and Cookson's Wildebeest. The region is also great for birding as there are over 400 recorded species.
Tafika Camp boasts an ideal setting in the South Luangwa National Park, Zambia. The park is one of Africa's most beautiful wildlife sanctuaries. Guests can fly into Mfuwe International Airport and from there can either be driven to the camp or catch a light aircraft flight to an airstrip near the camp.
The road transfer from Mfuwe International Airport will take about 2 hours. This transfer will take guests through the Nsefu Sector of the South Luangwa National Park. Guests can also arrive by air at Mwanya airstrip. The flight from Mfuwe International Airport to Mwanya will take about 15 minutes, and the road transfer to the camp another 15 minutes.